The Masters Of Horror add second season to DVD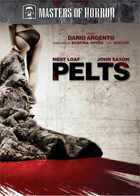 Anchor Bay Entertainment is already beginning to roll out the second season of the acclaimed Masters Of Horror TV series. Dario Argento's Pelts and John Carpenter's Pro-Life have already been scheduled for release shortly.
Adapted in lurid Giallo-style from F. Paul Wilson's (The Keep) short story by Matt Venne, "Pelts" gives "the skin trade" a whole new supernatural and bloody twist. Struggling fur trader Jake Feldman (Meat Loaf) knows that you can't make a coat without breaking a few animals' necks. When he creates a luxurious fur coat from a family of raccoons, he realizes he's made his ticket back to the big time, as well as potentially winning the heart of model Mira (Melissa Gonzalez). But this exquisite fur coat does more than just dazzle the eye – it possesses animal desires and the power to exact revenge.
The DVD will contain a widescreen presentation of the movie as well as a Commentary Track with writer Matt Venne. As additional extras, the release will contain the Featurette "All Sewn Up: Mastering The Effects Sequence" and the Featurette "Fleshing It Out: The Making of Pelts."
A Storyboard Gallery and Director Bio as well as the movie's Screenplay for DVD-ROM users will also be included.
"Pelts" will be in stores on February 13
Written by Master Of Horror alumni Drew McWeeny and Scott Swan ("John Carpenter's Cigarette Burns"), "Pro-Life" starts with a near-accident on an isolated mountain road. Both the victim, young Angelique (Caitlin Wachs) and the couple that almost hit her (Mark Feuerstein and Emmanuelle Vaugier), drive to a nearby women's health clinic. This facility also happens to be targeted by Angelique's devoutly religious, fervent "pro-life" father Dwayne (Ron Perlman) for their "ungodly" activities. As Dwayne and his three sons attempt to "rescue" Angelique, she discovers that the only thing more dangerous than her would-be saviors is the demonic secret growing within her.
Presented in widescreen the DVD will also offer up a Commentary Track by John Carpenter and writers Drew McWeeny and Scott Swan. In addition the Featurette "Final Delivery: The Making of Pro-Life" and "Demon Baby: Birthing the FX Sequence" will be included alongside a Storyboard Gallery, Director Bio and the movie's Screenplay as a DVD-ROM supplement.
"Pro-Life" will be available for purchase on March 20. Both DVDs will carry a $14.98 suggested retail price.