The Good Shepherd flocks to home video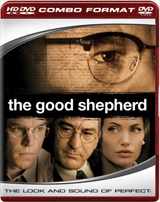 Universal Home Entertainment has just unveiled plans to release The Good Shepherd to DVD and HD-DVD in April.
Matt Damon, Angelina Jolie and Robert De Niro star in this powerful thriller about the birth of the CIA. Edward Wilson (Matt Damon) believes in America, and will sacrifice everything he loves to protect it. But as one of the covert founders of the CIA, Edward's youthful idealism is slowly eroded by his growing suspicion of the people around him. Everybody has secrets…but will Edward's destroy him? The movie's all-star cast also includes Alec Baldwin, Billy Crudup, William Hurt, Timothy Hutton and John Turturro.
The movie will come to DVD in two separate versions, featuring the widescreen and a pan&scan version respectively, complemented by 5.1 channel; Dolby Digital audio. The HD-DVD version will come as a HD-DVD/DVD combo and feature the 2.40:1 widescreen presentation of the movie in 1080p with Dolby Digital Plus audio tracks.
As extras the releases will contain a selection of Deleted Scenes.
"The Good Shepherd" will be in stores on April 3 with a $29.98 sticker price for the DVD version and a $39.98 price tag for the HD-DVD combo.