Secret Window comes to Blu-Ray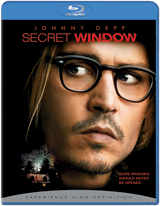 We just got information from Sony Pictures Home Entertainment that the studio plans to release a Blu-Ray version of the psychological thriller Secret Window in April.
Starring Johnny Depp , John Turturro, Maria Bello, Timothy Hutton and Charles S. Dutton this thriller will keep you on he edge of your seat. Following a bitter separation from his wife (Maria Bello), famed mystery writer Mort Rainey (Johnny Depp) is unexpectedly confronted at his remote lake house by a dangerous stranger named John Shooter (John Turturro). Claiming Rainey has plagiarized his short story, the psychotic Shooter demands justice. When Shooter's demands turn to threats – and then murder – Rainey turns to a private detective (Timothy Dutton) for help. But when nothing stops the horror from spiraling out of control, Rainey soon discovers he can't trust anyone or anything.
The Blu-Ray disc will feature a large number of audio tracks in a large variety of languages, including uncompressed 5.1 channel PCM tracks in German and French. Also included are a mind-numbing number of subtitle options in virtually every language imaginable – certainly too many to list here. Unfortunately Sony has not announced any bonus materials to go with this release.
You can open the "Secret Window" in high definition on April 24 for $28.95.