Paramount brings the first season of The Untouchables to DVD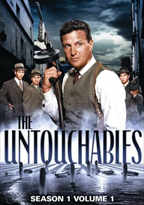 One of the most exciting classic TV series is finally coming to DVD courtesy of Paramount Home Entertainment.
"The Untouchables" follows the exploits of Treasury agent Elliot Ness (as played by laconic Robert Stack), who is assigned the task of breaking of Al Capone's illegal breweries in Chicago during the 1940s. To accomplish that task he recruits a small group of fellow agents who will not take bribes (a major problem during the period … hence their name).
Paramount will pack the first 14 episodes of the show on 4 discs with Dolby Stereo audio in The Untouchables: Season 1 Volume 1 complete with a Commentary Track by Walter Winchell. The DVD set will be on store shelves on April 10 for $38.99.