Mel Gibson returns in Payback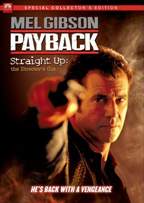 Calling it Payback: Straight up: The Director's Cut, Paramount Home Entertainment is re-visiting Brian Helgeland's controversial thriller starring Mel Gibson.
Mel Gibson portrays Porter, a career criminal bent on revenge after his partners in a street heist pump metal into him and take off with his $70, 000 cut. Bad move, thugs. Because if you plan to double-cross Porter, you'd better make sure he's dead. Porter resurfaces, wading into a lurid urban underworld of syndicate kingpins, cops on the take, sniveling informants and deadly gangs. Porter wants his money back. And the way he sets out to get is assures that, from beginning to heartpounding end, Payback pays off big.
The DVD will feature a widescreen transfer of the movie with 5.1 channel Dolby Digital audio. Interestingly this Director's Cut is 11 minutes shorter than the original theatrical version, now running 90 minutes, evidently trying to tighten up the story. The releasae will not contain any extras.
"Payback" will return to stores on April 10 in this release with a $19.98 suggested retail price. HD-DVD and Blu-Ray Disc versions will also be available on the same day for $29.99, each.