Buena Vista Home Entertainment brings us The Prestige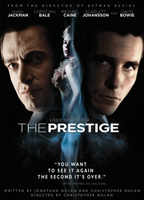 Buena Vista Home Entertainment has unveiled the complete details of their upcoming DVD version of The Prestige, scheduled for release by the end of February.
Set in Victorian London at the turn-of-the century where magicians are idols, two young but very different magicians set out to carve their own paths to fame. Robert Angier (Hugh Jackman) is a consummate entertainer – flashy, sophisticated and a true showman – while Alfred Borden (Christian Bale) is a rough edged creative purist who lacks the panache to showcase his tricks. As friends and partners they provide the perfect combination but when one of their tricks goes terribly wrong, friends become enemies and an escalating battle of one-upmanship begins with ever increasing perils to those around them.
Directed by Christopher Nolan, the film also stars Scarlett Johansson and Michael Caine, as well as David Bowie, to weave its mysterious story. It is presented in anamorphic widescreen on the disc, complete with a selection of cool extras.
Among the bonus features you will find the insightful a Multi-part Documentary called "The Director's Notebook: The Cinematic Sleight of Hand of Christopher Nolan" which offers a behind-the scenes look at all aspects of the creation of the film. Also included is an Interactive Gallery called "The Art of the Prestige."
"The Prestige" will take center stage on February 20 for $29.99.