Anchor Bay Re-Animates a classic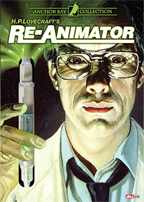 Anchor Bay Entertainment has just unveiled the details about their upcoming release of Stuart Gordon's horror classic Re-Animator.
Herbert West has a very good head on his shoulders… and another one in a dish on his desk! Deep within the morgue at Miskatonic University, arrogant madman West (Jeffrey Combs) introduces fellow graduate student Dan Cain (Bruce Abbott) to his startling formula for the re-animation of fresh corpses. But the secret of life and death has some very messy consequences.
Coming as a 2-disc "Anchor Bay Collection" Special Edition, the release will boast a brand new anamorphic widescreen presentation of the movie complete with Dolby Digital and DTS audio tracks.
Also included on the two discs you will also find a slew of bonus materials, such as an Audio Commentary with director Stuart Gordon and another Commentary Track featuring Producer Brian Yuzna and Actors Bruce Abbott, Jeffrey Combs, Barbara Crampton and Robert Sampson.
The 70-minute Documantry "Re-Animator Resurrectus" is at the heart of the set's second disc but in addition to that you will also find various Interviews with Director Stuart Gordon and Producer Brian Yuzna, write Dennis Paoli, Composer Richard Band, and Fangoria's Tony Timpone on the disc. Further, a Deleted Scene und a selection of Extended Scenes await you, as well as a various Photo and Poster Galleries and the movie's Trailers and TV Spots. Storyboards, Biographies and the Screenplay on DVD-ROM are also included. As a special bonus, the DVD-ROM part of the disc will even contain the H.P. Lovecraft short story "Herbert West, Re-Animator," which served as the inspiration to the film.
The disc will come to stores on March 20 for $24.98, and will be available as a Limited Edition with a Syringe Highlighter.