28 Days Later returns from the grave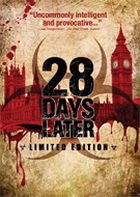 The indie zombie flick 28 Days Later is getting a limited edition DVD release from Twentieth Century Fox Home Entertainment set to arrive in time for the upcoming sequel.
Presented in anamorphic widescreen and Dolby Digital 5.1 the disc is pretty much identical to its initial release, but does have a few nice goodies for those who haven't picked up the disc yet. a sneak peak at the new film 28 Weeks Later is included with the disc, as is a ticket good for admission to the new film.
Retail for the set comes in at $19.98 Be sure to check it out May 1st.