National Geographic goes high def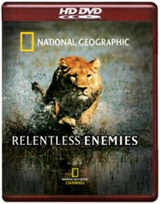 With Relentless Enemies, National Geographic has scheduled their first high definition release for March, coming to DVD, HD-DVD and Blu-Ray Disc through Warner Home Video.
The great lions of the Tsaro pride are larger, more fearsome and more innovative than your typical lion. These enormous lions have thick necks and heavy chests built to wade through water and hunt places big cats normally avoid. Trapped on an island with these giant killers are thousands of buffalo who are forced to devise defensive tactics and eventually learn to fight back. See the battle unfold from a unique perspective as National Geographic Channel tracks the movements from the air and up close.
All three versions will be in stores on March 27. The DVD version will carry a $19.98 price tag, while the HD-DVD and Blu-Ray versions will carry a $34.99 sticker price. No bonus materials or technical specs have been announced for the release yet but will be forthcoming.