MGM Home Entertainment unveils more Blu-Ray titles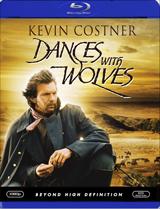 After tentative announcements during CES last week, MGM Home Entertainment has just announced details about the high definition versions of Dances With Wolves, Hoosiers And The Thomas Crown Affair, coming to Blu-Ray Disc in March.
In Dances With Wolves Kevin Costner plays Lt. John Dunbar, who is sent to protect a US outpost on the desolate frontier, when he finds himself alone in the vast wilderness. Befriending the very people he's sent to protect the outpost from, the Sioux Indians, Dunbar slowly comes to revere those he once feared. But when the encroaching US Army threatens to overrun the Sioux, he is forced to make a choice – one that will forever change his destiny and that of a proud and defiant nation.
The film will be presented with a lossless 5.1 DTS HD audio track in its original theatrical version with a running length of 181 minutes.
In Hoosiers Gene Hackman plays Norman Dale, a basketball coach whose checkered past has led him to a last-chance position with a last-chance team. Made to feel unwelcome by squad members, an icy fellow teacher and townspeople who nearly have him fired, Dale perseveres with a gritty demeanor and an unwavering passion for the game. But winning over the team is only half the battle in a world where small-town teams can end up playing big-time rivals…and a downtrodden outsider can rouse the pride of an entire town.
The release will feature an MPEG-2 encoded transfer, once again complemented by a lossless 5.1 DTS HD audio track as well as a English Dolby Surround 4.0 track.
The Thomas Crown Affair brings us Pierce Brosnan as the thrill-seeking billionaire Thomas Crown who loves nothing more than courting disaster – and winning! So when his world becomes too stiflingly "safe," he pulls off his boldest stunt ever: stealing a priceless painting – in broad daylight – from one of Manhattan's most heavily-guarded museums. But his post-heist excitement soon pales beside an even greater challenge: Catherine Banning (Rene Russo). A beautiful insurance investigator hired to retrieve the artwork, Catherine's every bit as intelligent, cunning and hungry for adventure as he is. And just when Thomas realizes he's finally met his match, she skillfully leads him into a daring game of cat and mouse that's more intoxicating – and dangerous – than anything either of them has ever experienced before!
Encoded in MPEG-2 this release will also come with a lossless 5.1 DTS HD audio track und 5.1 Dolby Digital audio in French and Spanish.
All three titles will be release on March 13 and can be yours for a hefty $39.98. Information is currently conflicting whether these will be single-layer or dual-layer Blu-Ray discs but the high price point, may actually indicate the use of 50GB BD-50 discs to properly accommodate the films.