Genius Products serves up Dead Mary: Unrated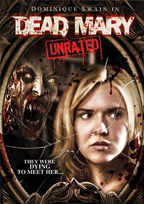 Genius Products is releasing the horror film Dead Mary: Unrated in February and we thought we'd pass the word on to you.
For Kim (Dominique Swain) it was supposed to be the perfect reunion and weekend getaway. She and her best friends drive to a remote lakeside cabin to relax and reminisce about their college days. When the group decides to play the ghoulish game "Dead Mary, " they unleash a vengeful spirit that possesses them one by one. As the demon forces them to turn on one another, each is faced with a choice. Would you hack your best friend to pieces to ensure your own survival?
Featuring a widescreen transfer of the movie, the DVD will also contain a few bonus materials, such as a Music Video, a Making Of Featurette and the movie's Theatrical Trailer.
"Dead Mary" can be yours for $24.95 when it hits retail shelves on February 20.