Gandhi is commemorated in a Special Edition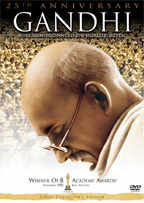 Sony Pictures Home Entertainment has announced details about an upcoming 25th Anniversary Collector's Edition of Gandhi.
Winner of 8 Academy Awards, "Gandhi" is one of the most memorable epics of the 80s and with this Special Edition everyone will have the chance to revisit this remarkable film. It is a riveting story about activism, politics, religious tolerance and freedom, depicting the life and times of Mahatma Gandhi, the Indian political leader who managed to free his country from the British rule using peaceful means and thus giving hope and inspiration for generations to come. In addition to four time Academy Award nominee Kingsley, the brilliant cast includes Edward Fox, Roshan Seth, Candice Bergen, Sir John Gielgud, Trevor Howard and Martin Sheen.
The DVD will feature a remastered transfer of the film as well as a large number of bonus materials, such as In Search of Gandhi, a featurette in which director Richard Attenborough discusses the various hurdles he faced in getting the film made, from the genesis of the project in the '60s through to the start of production.
Also included are Reflections on Ben in which cast and crew members reflect on Ben Kinsley as he prepared for the role and memories of him during production and Madeleine Slade: An Englishwoman Abroad, a featurette in which Richard Attenborough and Geraldine James discuss Madeleine Slade (Meerabahen), who became one of Gandhi's most committed followers.
You will also find the featurette The Funeral on the disc as the cast and crew discuss the recreation and filming of Gandhi's Funeral. This scene holds the record for containing more extras than any other in film history (in excess of 250,000 people!). Shooting an Epic in India is a look at the production of the movie in India and the challenges they faced as the production progressed. A new featurette called Looking Back gives members of the cast and crew a chance to look back at the film. This featurette includes material about the success of the film, the impact it had on release and the Academy Award ceremony.
A number of short Featurettes will also cover production aspects, such as "Designing Gandhi" and "From the Directors Chair." In a highlight you will also get to see Ben Kingsley Talks About Gandhi, Four Vintage Newsreel Shorts and The Making of Gandhi, a photo montage of behind-the-scenes stills.
This epic 2-disc Collector's Edition will be in stores on February 20 and can be yours to own for $24.96. Here's hoping that a Blu-Ray version will follow soon.