ER enters Season Seven in May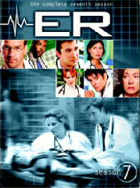 Looking ahead down the road, Warner Home Video has today announced a DVD version of ER: The Complete Seventh Season for release in May and sent over some details.
Created by best-selling author Michael Crichton, the award winning medical drama series tackles difficult issues and the seventh season is no exception. ER: The Complete Seventh Season unfolds as Dr. Carter (Noah Wyle) returns from detox and struggles with his drug dependency. Other personal issues that the doctors are forced to deal with include Doctor Abby Lockhart (Maura Tierney) reuniting with her mother, a turbulent woman who suffers from bipolar disorder and Doctor Chen (Ming Na) finding out she is pregnant. The most intrusive episodes of the seventh season revolve around Doctor Weaver's (Laura Innes) relationship with another woman and her struggle with her sexual orientation. All of this, plus the doctors continual fight to save patients lives.
The 6-disc DVD set will contain the series' episodes in 1.78:1 anamorphic widescreen with English audio. As extras you will find a selection of Deleted Scenes and a Gag Reel on the release as well.
"ER: The Complete Seventh Season" will be in stores on May 15 for $49.98.