Universal releases Hollywoodland in February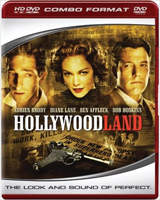 Universal Home Entertainment has scheduled the release of Hollywoodland for February, offering this film starring Diane Lane, Ben Affleck and Adrien Brody up on DVD as well as a HD-DVD/DVD combo.
Hollywoodland is a uniquely compelling exploration of fame and identity, inspired by one of Hollywood's most infamous real-life mysteries. June 16, 1959. The glamour of Tinseltown permanently fades for actor George Reeves, the heroic Man of Steel on TV's "Adventures of Superman," as the actor dies in his Hollywood Hills home. Felled by a single gunshot wound, Reeves (Ben Affleck) leaves behind a fiancée – aspiring starlet Leonore Lemmon (Robin Tunney) – and millions of fans who are shocked by his death. But it is his grieving mother, Helen Bessolo (Lois Smith), who will not let the questionable circumstances surrounding his demise go unaddressed. Helen seeks justice, or at least answers. The Los Angeles Police Department closes the case, but Helen hires – for $50 a day – private detective Louis Simo (Adrien Brody). Simo soon ascertains that the torrid affair Reeves had with Toni Mannix (Diane Lane), the wife of MGM studio executive Eddie Mannix (Bob Hoskins), might hold the key to the truth. But truth and justice are not so easily found in Hollywood. Simo pursues dangerous and elusive leads in both high and low places and, in trying to turn up the heat, risks getting burned. The detective also uncovers unexpected connections to his own life as the case turns more personal and he learns more about Reeves himself. Behind the icon was a complex man who gave his life to Hollywood in more ways than one.
The DVD will be solid as separate version featuring the 1.85:1 widescreen and fullframe version of the film. The disc will contain a 5.1 channel Dolby Digital audio track in English and French.
No exact details and bonus materials have been announced yet but we will keep you posted as details emerge.
The DVD version will be priced at $29.98 while the HD-DVD/DVD combo will have a $39.98 sticker price when the film lands on retail shelves on February 6.