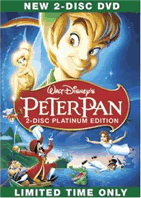 Peter Pan goes Platinum
In 2001, Disney announced their ambitious ten year plan for DVD releases, including ten titles in the Platinum line. In the years that followed, minor changes have occurred with the plan, and four more titles were added to the platinum line; Peter Pan, Pinocchio, Fantasia and Sleeping Beauty. Peter Pan is the first of the extended line to join the Platinum lineup with a two disc version coming in March.
The film will be presented in the confusing 1.33 enhanced for 4×3 screen format and will have a Disney Enhanced Home Theater Mix 5.1 sound track. It is unknown if the disc will contain the films original soundtrack as of yet.
Like most platinum releases, Peter Pan has a nice mix of extras for family fun and film enthusiasts. Included on the set are Camp Never Land Games, an alternate opening, deleted songs, the vintage featurette In Walt's Words – Why I Made Peter Pan, and the newer featurette You Can Fly: The Making of Peter Pan. a DVD storybook and a sneak peek at the upcoming Tinkerbell movie. It's worth mentioning that in addition to a couple of sing-alongs, the audio commentary from the existing DVD seems to be absent from this release.
The DVD will be priced at $29.99 and will be released on March 6th.