Paramount releases Beauty and The Beast in February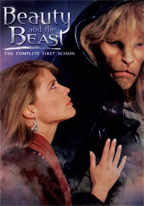 Paramount Home Entertainment just unveiled details that they will release the entire first season of the TV show Beauty And The Beast in February as a 6-disc DVD set.
Creator Ron Koslow's updated version of the fairytale has a double focus: the relationship between Vincent, (a mythic, noble man-beast) and his Catherine (a savvy assistant DA in New York); and a secret Utopian community of social outcasts living in a wondrous world beneath the city a sanctuary where Vincent is protected and loved. Through an emotional bond connecting Vincent to Catherine, he is able to sense the dangers her job brings her, and he comes to be her protector as well as the man she loves beyond all measure. The series follows the developing relationship between these two and nicely fleshes out the underground world of labyrinth tunnels, mystical waterfalls, and people who have come together to form a loving and nurturing family. In a twist from the original tale, however, this "beast" does not transform into society's idea of beauty after gaining the love of Catherine. Rather, Vincent's inner beauty is allowed to remain the focus of who he is and it is Catherine's former "shallow" self that is the ugliness transformed by their love of each other.
Presented in its original fullframe aspect ratio the DVD will feature all 22 first-season episodes but will come with only a mono audio track in English and will not contain any bonus materials.
The DVD set is scheduled for a release on February 13wit ha $49.99 suggested retail price.