It is Open Season in February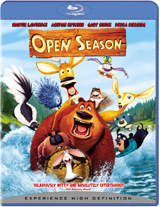 Sony Pictures Home Entertainment has just unveiled details about the release of the animated feature film Open Season, scheduled for February. The film will be released on DVD, Blu-Ray Disc and UMD for the PSP.
In this animated action adventure comedy the odd are about to get even. Boog (Martin Lawrence), a domesticated grizzly bear with no survival skills, has his perfect world turned upside down when he meets Elliot (Ashton Kutcher) a scrawny, fast-talking mule deer. When Elliot convinces Boog to leave his cushy home in a park ranger's garage to try a taste of the great outdoors, things quickly spiral out of control. Relocated to the forest with open season only three days away, Boog and Elliot must acclimate in a hurry. They must join forces to unite the woodland creatures and take the forest back!
Available individually in widescreen and fullframe, the DVD version will contain movie with 5.1 channel Dolby Digital tracks in English and French and a Spanish Dolby Surround track. It will be stacked with extras, such as the Short Film "Boog and Elliot's Midnight Bun Run". Also included are a Commentary Track with the filmmakers, a selection of Deleted Scenes and Inside The Animals Studio a Making Of Featurette and the Featurette "The Voices Of Open Season". Further you will find the "I Wanna Lose Control Music Video on the disc, as well as a Scene Decomposition Feature. A Wheel Of Fortune Forest Edition Game will also come on the disc, plus an Art Gallery and a Preview for the film "Surf's Up" will also be included.
The Blu-Ray version will contain all the extras from the DVD version and will feature an uncompressed 5.1 PCM audio track alongside the 5.1 channel tracks.
The UMD version will contain only the movie without any extras.
"Open Season" will be on January 30 on all three formats. The DVD will carry a $28.95 price tag while the Blu-Ray version will come to you with a brutal $38.98 sticker price. Like the DVD, the UMD version can be yours for $28.98.