Half Baked comes to HD-DVD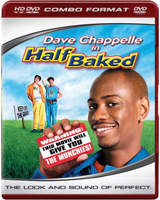 Universal Home Entertainment has just announced a HD-DVD/DVD combo of Half Baked for release in January.
Dave Chappelle stars in this hilarious adventure of three lovable party buds trying to bail their friend out of jail. But just when the guys have mastered a plan, everything comes dangerously close to going up in smoke! Packed with memorable appearances by Snoop Dogg, Jon Stewart, Willie Nelson and Tommy Chong. Experience this all-new special expanded version that's fully baked.
The disc will offer up a 1080p transfer of the movie itself, complemented by an English DTS audio track as well as a 5.1 channel Dolby Digital Plus track in English and French and Spanish Dolby Stereo tracks.
As extras you will find duplicated the bonus materials form the "Fully Baked" DVD version, which is included on the flip-side of the HD-DVD/DVD combo. This edition features a Commentary Track by director Tamra Davis, a selection of 10 Deleted Scenes as well as an Alternate Ending.
Also included is 5 minutes with the "The Guy on the Couch" and Different Types of Smokers, a featurette giving you a look inside Thurgood's stoner culture and his "different smokers" theory. Next up is Granny's Guide to Bakin' in which Granny shows us her favorite recipes guaranteed to satisfy even the worst case of the munchies.
This HD-DVD/DVD combo will be in stores on January 30 with a surprisingly low $29.98 suggested retail price.