FUNimation launches Shinobi: Heart Under Blade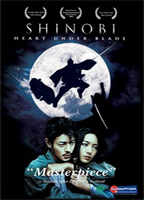 Scheduled for a release in February, FUNimation is currently putting the final touches to a 2-disc DVD set of the Japanese sensation Shinobi: Heart Under Blade.
The year is 1614. Japan has been united under the Tokugawa Shoguns and the land is beginning to feel at peace. Two remote ninja clans, the Koga and the Iga, are ancient enemies, but have long been bound by a peace agreement forbidding them to fight. The heirs to the leadership of both clans have fallen in love, but a tragic fate awaits them. A cruel plot is set by the Shogun to wipe these two clans from existence by breaking the peace agreement and forcing the two clans to battle. As a great war begins, it brings the two young heirs together again. But this time they're enemies.
Apart from an anamorphic widescreen presentation of the movie the DVD will contain Behind-The-Scenes Featurettes and a Director Storyboard Collection.. Also included is a Weapons Introduction and a break down of an action scene in Shinobi Action – Sumpu Castle Fight.. Further Shinbi Art and a Storyboard Collection will be included in this Special Edition. The release is rounded out by Trailers and TV Spots.
"Shinobi: Heart Under Blade" is scheduled for release on February 6 with a $24.98 suggested retail price.