Foster's Home For Imaginary Friends hits DVD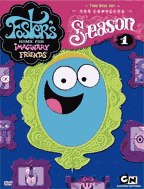 Warner Home Video unveiled details about the upcoming release of the Season 1 of the Cartoon Network show Foster's Home For Imaginary Friends, slated for March.
If there's one thing boys love as much as watching things explode, it's watching funny stuff. And "Foster's Home For Imaginary Friends" is chock full of funny.
The season 1 will come as a 2-disc DVD set featuring all 13 episodes as well as a number of bonus materials. The show itself will be presented in its original fullframe aspect ratio, complemented by a Dolby Surround audio track in English, French and Spanish.
No exact details about the bonus materials have been released yet but Warner promises "lots of fun special features and gags" when the disc set hits stores on March 6 for $19.98.