A second slice of pie in Twin Peaks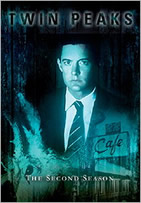 Years have passed since the release of the first season of Twin Peaks and the rights have floated through several companies in the mean time. But Paramount Home Entertainment has finally taken the second season of the Lynch series out of the backroom for a DVD release in April.
As of yet, there are absolutely no details on the particulars of the set. Hopefully the Log Lady Intros for each episode will be included, but they are likely floating around with their own complicated rights. Only time will tell. On a nice show of inter-studio friendliness, the design and artwork for the set matches the artwork of the old season one relase. Nice touch Paramount.
Look for Twin Peaks on April 19th.