What's New Scooby-Doo now comes in season sets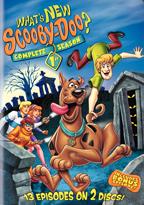 Warner Home Video has just announced that they will begin releasing the animated TV series What's New Scooby-Doo in season box sets, starting with the Complete Season One in February.
Clever sleuthing has led you to treasure: the very first season of What's New Scooby-Doo? Enjoy all 13 episodes of spoofy hilarity and mystery with the crime-busting gang –from scary snowboarding in There's No Creature Like Snow Creature to the season finale The Unnatural, with the voices of real-life baseball greats Mike Piazza and Luis Santiago. As Scooby-Doo fans know, popular stars often lend their vocal talents in such takeoffs as Riva Ras Regas (co-starring teen pop singer Lindsay Pagano) and American pop idol JC Chasez from super group *NSYNC. But everyone knows who the biggest heartthrob of the show is really…who else? Scooby-Dooby-Doo!
The 2-disc DVD set will contain all 13 episodes that make up the show's first season in their original fullframe aspect ration, complete with Dolby Surround audio. As extra the DVD set will also contain a Bonus Episode called "A Scooby-Doo Valentine"
"What's New Scooby-Doo: Season 1" will be in stores on February 20 for $19.98.