Warner unleashes the Loonatics on DVD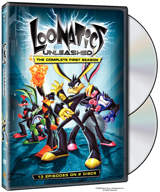 Warner Home Video has just unveiled some information about the scheduled release of Loonatics Unleashed next March.
"Loonatics" is a series of short animated cartoons loosely based on the Looney tunes characters. However, they have been updated in an action comedy style with an anime-inspired look and feel.
"Loonatics Unleashed" will comes to DVD as a Season 1 DVD set containing 2 discs that features all of the season 1 episodes. Presented in their original fullframe format, the DVD will also contain Dolby Stereo audio tracks. No extras have been announced yet, but "Loonatics Unleashed: Season 1" can be yours on March 13 for $19.98.