Warner celebrates Martial Arts Cinema with The Promise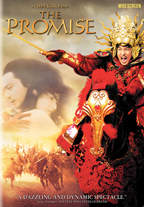 We just got information in about Warner Home Video's plans to release Chen Kaige's beautiful Chinese period piece The Promise on DVD this December.
A new epic fantasy set in China's mythical past, "The Promise" is a visually stunning tale of passion that unfolds against a backdrop of war as a beautiful and mysterious princess becomes the object of affection for three very different men – a powerful Duke, a brave general and a lowly slave. As passions spark and egos clash, lives will be ruined and lovers spurned and no one will ever be the same.
The DVD will feature an anamorphic widescreen transfer of the movie and complements it with 5.1 channel Dolby Digital audio tracks in its original Mandarin as well as English. As extras the release will contain The Making Of The Promise as well as a selection of Additional Scenes.
"The Promise" will be in stores on December 19 for $27.95.