Two For The Money arrives in January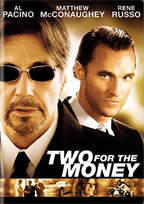 Universal Home Entertainment has just announced plans to release the gambling thriller Two For The Money starring Al Pacino and Matthew McConaughey on DVD in December.
Brandon Lang (Matthew McConaughey) is a former college football star sidelined by a devastating injury, but his unparalleled ability to predict the outcome of football games attracts the attention of Walter Abrams (Al Pacino), head of one of the biggest sports consulting operations in the country. Walter molds the small town ex-athlete into a big-time sports consultant named John Anthony, a fast-talking smoothie with all the right answers. After his killer instinct for victory hooks the ultimate high roller, Novain (Armand Assante), a gambler of apparently unlimited means, his golden touch begins to fail him. At the same time, Walter's game plan for his protégé crosses a dangerous line. With millions of dollars at stake, Brandon and Walter go head to head, each one trying to outplay the other while everyone in their world, including Walter's wife, Toni (Rene Russo) and Brandon's bitter rival, Jerry (Jeremy Piven), is drawn into the deadly scrimmage.
The DVD will contain a number of cool extras, such as a Commentary Track featuring writer Dan Gilroy and director D.J. Caruso. Also included are Deleted Scenes with optional commentary, and Insider Interview, a featurette in which writer Dan Gilroy interviews his former caddie and inspiration for the role, Brandon, to uncover the real story behind the movie. The DVD is rounded out by a Making Of Featurette giving you a glimpse behind-the-scenes to show the high-stakes world of Hollywood filmmaking.
"Two For The Money" will fly onto retail shelves on January 17 for $29.98. Not much of a gamble here.