The Illusionist appears in your living room in January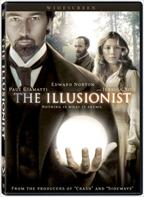 20th Century Fox Home Entertainment has just unveiled details about the DVD release of The Illusionist in January.
Unlock the mysteries of the year's most spellbinding film from the producers of Crash and Sideways! Oscar-nominees Paul Giamatti and Edward Norton lead an all-star cast in this film that conjures an exhilarating blend of suspense, romance and mind-bending twists. The acclaimed illusionist Eisenheim (Edward Norton) has not only captured the imaginations of all of Vienna, but also the interest of the ambitious Crown Prince Leopold (Rufus Sewell). But when Leopold's new fiancée (Jessica Biel) rekindles a childhood fascination with Eisenheim, the Prince's interest evolves into obsession… and suddenly the city's Chief Inspector (Paul Giamatti) finds himself investigating a shocking crime. But even as the Inspector engages him in a dramatic challenge of wills, Eisenheim prepares for his most impressive illusion yet.
The DVD will be sold individually in a 1.78:1 widescreen and a pan &scan version. Both versions will feature a 5.1 channel Dolby Digital language track.
As extras you will find a Making Of Featurette on this release, as well as an Interview Featurette with Jessica Biel, in which she discusses the film. The DVD will be rounded out by the movie's Theatrical Trailer.
"The Illusionist" will appear on store shelves on January 9 as if by magic, with a $29.98 sticker price.