The Ant Bully is going high def as well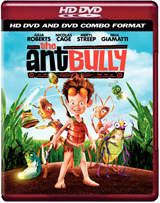 We just got word from Warner home Video that the animated feature film The ant Bully is making its debut not only on DVD this month, but also in high definition on HD-DVD as a HD-DVD/DVD combo and a Blu-Ray disc.
From Academy Award nominated filmmaker John A. Davis (Jimmy Neutron: Boy Genius) and producers Tom Hanks and Gary Goetzman (The Polar Express), "The Ant Bully" tells a witty and heartwarming story about a 10-year-old boy who embarks on a remarkable journey. New in town, friendless and tormented by a neighborhood bully, young Lucas Nickle has been taking out his frustration on the innocent ant hill in his yard. But one day the ants retaliate. Using a magic potion, they shrink Lucas down to ant size and sentence him to live like an ant in their colony. In this strange new world Lucas will learn important lessons about friendship, get a whole new perspective on life and ultimately find the courage to stand up for himself.
The HD-DVD version will feature a 1.78:1 widescreen transfer of the movie in 1080p, complemented by a lossless 5.1 channel Dolby Digital track in English, as well as Dolby Digital Plus tracks in English, French and Spanish.
As extras the release will contain a Featurette called "It Takes a Colony" in which the Black Beetle explores the giant filmmaking process from a tiny perspective. Also included is an Ant Habitat Screen Saver.
The Blu-Ray version will contain only Dolby Digital audio tracks and will not contain the extras found on the HD-DVD version.
These high definition versions will be in stores on the same day the DVD is released, namely November 28 and will carry a $39.99 price tag for the HD-DVD/DVD combo and $34.99 for the Blu-Ray Disc.