Sony Pictures lines up more Blu-Ray discs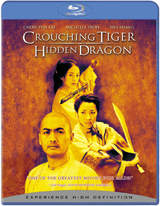 Sony Pictures Home Entertainment has just unveiled details about two more exciting Blu-Ray discs, scheduled for release in January, but it is not all gold that glimmers…
First off is Ang Lee's martial arts romance Crouching Tiger, Hidden Dragon, coming as a 1080p video transfer with 5.1 channel Dolby Digital audio tracks in Mandarin, English and French. As extras the release will contain the same features that were previously found on the DVD version, namely a Commentary Track by Ang Lee, an Interview Featurette with Michelle Yeoh and a Promo Featurette about the making of the film.
One can only hope that Sony Pictures Home Entertainment has created a new transfer of the movie for this release because all DVD versions, including the superbit version, so far have used a rather mediocre print that had not even been cleaned up but frankly, I would not put my hopes too high. Considering that the Blu-Ray version does not even contain improved audio tracks, this release really looks a lot like it is just the 6-year old DVD version shoved carelessly through the pipeline in high def.
Also coming to Blu-Ray is Winged Migration, a documentary about birds in flight in their natural world. Featuring a 1080p high definition transfer, this film will contain a 5.1 channel PCM audio track as well as 5.1 Dolby Digital tracks in English and French. Why a documentary will come with a highest quality PCM track and a blockbuster like "Crouching Tiger" does not is beyond comprehension, but that is Sony for you right there.
"Winged Migration" also contains a Commentary Track by the director as well as a Making Of Featurette.
Both discs will be in stores on January 16 with a $28.95 suggested retail price.