MGM brings Princess Bride and Usual Suspects to high def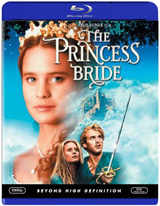 We just received details about MGM Home Entertainment's plans to release Blu-Ray versions of Rob Reiner's The Princess Bride and The Usual Suspects in February.
From celebrated director Rob Reiner and Oscar®-winning* screenwriter William Goldman comes The Princess Bride, an enchanting film filled with adventure, romance and plenty of fun! Featuring a spectacular cast that includes Robin Wright, Cary Elwes, Mandy Patinkin and Billy Crystal, this wonderful fairy tale about a Princess named Buttercup and her beloved is a comedy landmark.
The Blu-Ray version will feature a DTS HD audio track in English and a Spanish Dolby Surround track along with the 1080p encoded widescreen video transfer. No extras will be included on this disc.
In The Usual Suspects, an atmospheric film noir, while being held in an L.A. interrogation room, Verbal Kint attempts to convince the feds that a mythic crime lord not only exists, but was also responsible for drawing him and his four partners into a multi-million dollar heist that ended with an explosion in San Pedro Harbor leaving few survivors. But as Kint lures his interrogators into the incredible story of this crime lord's almost supernatural prowess, so too will you be mesmerized by a lore that is completely captivating from beginning to end!
A 1080p video will be complemented by a lossless DTS HD audio track in English and Dolby Surround tracks in French and Spanish. Apart from some Trailers no extras will be found on this release either.
"The Princess Bride" and "The Usual Suspects" will be in stores on February 13 and can be yours for $39.98, which is pretty steep considering that these are bare-bones discs.