Masters Of Horror concludes with Fair Haired Child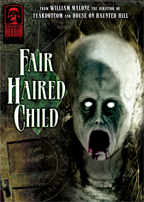 Anchor Bay Entertainment just announced details about last one of the Masters Of Horror Season One films to come to DVD this December.
Fair Haired Child spins the bizarre tale of a thirteen-year-old outcast named Tara who is kidnapped by a strange couple and locked in a basement with their son Johnny, who happens to be the same age. Johnny is very kind and sensitive but he holds a terrible secret. Determined to battle a curse and learn the reason behind the kidnapping, Johnny and Tara form a special bond with hopes to survive the unrelenting night to come.
Like all other releases in the "Masters Of Horror" series so far, this DVD will also contain a variety of featurettes, such as Working With A Master: William Malone and an Interview Featuette with William Malone called "The Face OF Fear."
Further there will be On Set Interviews with Lori Petty, Lindsay Pulsipher and William Samples on the release, as well as a Making OF Featurette. This time around we're also getting a Commentary Track featuring director William Malone and writer Matt Greenberg. The DVD will be rounded out by a Still Gallery, Trailersand a William Malone Biography. Owners of DVD-ROM drives can also access the film's Screenplay and a Screensaver.
"Fair Haired Child" will come to stores on December 12 for $16.98.