Feel The Sting in the new year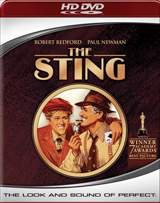 Universal Home Entertainment has scheduled a HD-DVD version of the 1973 caper The Sting for release in January.
Winner of 7 Academy Awards, including Best Picture, "The Sting" stars Paul Newman and Robert Redford as two con men in 1930s Chicago. After a friend is killed by the mob, they try to get even by attempting to pull off the ultimate "sting." No one is to be trusted as the twists unfold, leading up to the greatest double-crosses in movie history. The con is on!
Featuring a 1080p widescreen transfer the disc will present the movie with a 5.1 channel Dolby Digital Plus audio track in English and Spanish. Stereo audio tracks will be provided in English and French also.
The HD-DVD version will incorporate all the extras found previously on the DVD version of the movie, all encoded in 480p standard definition. You will find the Retrospective Featurette "The Art Of The Sting" there as well as the "Making A Masterpiece." Another featurette is "The Legacy" that will be included on the disc together with the film's Theatrical Trailer.
Open your eyes for "The Sting" on January 16 when it will hit retail stores for $29.98.