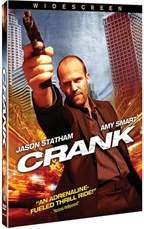 Lionsgate has just unveiled details about the home video release of the actioner Crank starring Jason Statham, in January on both DVD and Blu-Ray Disc.
Jason Statham plays a professional hit man who is poisoned and has only hours to live. He has some big tasks to accomplish before the grim reaper arrives.
The DVD version will be available as a widescreen and a fullframe edition separately and offer up an English 5.1 channel Dolby Digital EX audio track.
As extras the DVD will offer a Crank'd Out Mode in which viewers can experience exclusive behind-the scenes footage, making-of insights, interviews, running commentary , gags and much more without ever leaving the film. Also included is a Family-Friendly Audio Track without all the expletives. Sounds a lot like someone ran out of ideas for bonus materials, but so be it.
The Blu-Ray version will offer up the same content from the DVD version but will also included 3 Additional Featurettes entitled "Shooting Crank," "The Stunts Of Crank" and "Pushing Crank."
The film will be in stores on January 9 with a $28.98 suggested retail price for the DVD version and a $39.99 price tag for the Blu-Ray Disc.