20th Century Fox Home Entertainment unleashes a Blu storm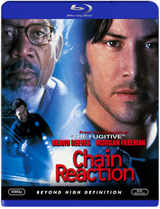 20th Century Fox Home Entertainment just announced a good number of new Blu-Ray titles to hit retail shelves in the first weeks of 2007.
In Broken Arrow a B-3 Stealth Bomber crashes in the Utah desert during a top-secret test run and the military quickly moves in to retrieve its two "broken arrows." But the situation spins wildly out of control after one of the pilots reveals the crash to be part of an incredible nuclear extortion plot.
The disc will comes with a lossless DTS HD Audio Track as well as 5.1 Dolby Digital tracks in French and Spanish. Further the release will contain a D-Box Motion Sensor Track feature and a selection of Trailers.
Next on the list is Chain Reaction, a thriller in which a student machinist (Keanu Reeves) finds himself caught in a maze of secret government cover-ups, hi-tech espionage and murder after working on a ground-breaking scientific experiment. Eddie Kasalivich (Reeves) and Lily Sinclair (Rachel Weisz) are part of a team of scientists who have developed a revolutionary new source of energy. But no sooner have they finished celebrating their triumph, than their lab is destroyed and the head of their team killed. Named as the main suspects, Eddie and Lily quickly realize their only hope lies with a powerful and mysterious bureaucrat (Morgan Freeman) who may or may not be on their side.
The disc will contain a lossless DTS HD Audio Track also, as well as a 5.1 Dolby Digital track in French and a Spanish Dolby Surround track. As extras the Blu-Ray disc will offer up a selection of Trailers only.
Phone Booth is coming to Blu-Ray also. Colin Farrell delivers a captivating, off-the-hook performance as Stu Shepard, a self-centered New York City publicist who suddenly finds himself on the deadly end of a high-powered rifle scope. Now it's a real-time race against the clock as Stu must outwit a psychotic sniper in a frantic scramble from phone booth to freedom.
The release will contain a lossless DTS HD Audio Track along with 5.1 Dolby Digital tracks. As extras ,fans will find a Commentary Track by Joel Schumacher on the disc, as well as a selection of Trailers.
Tim Burton's remake of Planet Of The Apes is next on the release schedule. After a spectacular crash-landing on an uncharted planet, brash astronaut Leo Davidson (Mark Wahlberg) finds himself trapped in a savage world where talking apes dominate the human race. Desperate to find a way home, Leo must evade the invincible gorilla army led by ruthless General Thade (Tim Roth) and his most trusted warrior, Attar (Michael Clarke Duncan). Now the pulse-pounding race is on to reach a sacred temple that may hold the shocking secrets of mankind's past – and the last hope for it's salvation!
Just like the other discs, this release will feature a a lossless DTS HD Audio Track along with 5.1 Dolby Digital tracks. The extras included on this discs will contain the Commentary Track by Tim Burton as well as Trailers and an Easter Egg.
All these titles will be in stores on February 13 with a $39.98 sticker price. The previously announced Entrapment and The Sentinel Blu-Ray versions have also been moved from their earlier release date to February 13.