Warner unveils another high defintion wave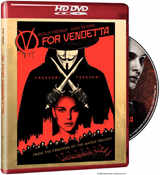 Warner Home Video just announced a few additional high definition titles slated for release this fall.
The remarkable V For Vendetta is coming to HD-DVD, featuring the In-Movie Experience feature, containing the "Director's Notebook: Reimagining a Cult Classic for the 21st Century." It is the electrifying story of an everyday woman in futuristic Britain who becomes the unlikely accomplice of a mysterious freedom fighter in his radical effort to rid the country of oppression. All the extras from the DVD version will be included on this release also, making it a perfect replacement disc.
Also coming to HD-DVD is John Boorman's Excalibur. Raised by Merlin, young Arthur draws the mystical sword of Excalibur from the stone and becomes King. He grows to manhood and with his wife Guenevere and first knight Lancelot unites the country and founds the Knights of the Round Table. But the love between Lancelot and Guenevere, and the treachery of his sister Morgana and son Mordred cause King Arthur's pride to jeopardize the kingdom. An epic battle between the knights of good and evil decides the fate of Camelot. Once again, the release will contain all bonus materials form the DVD version.
Warner also releases a number of Blu-Ray titles, including Steven Seagal's Under Siege as well as The Phantom Of The Opera, The Searchers and Clint Eastwood's Unforgiven. All Blu-Ray discs will also contain the bonus materials found on the respective DVD versions.
All seven titles will be in stores on October 31 and to make things easy and customer-friendly, Warner has attached a $28.99 sticker price to each one of these discs.