Warner is dishing out a Martial Arts Double Feature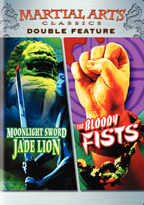 Warner Home Video has prepared a double-feature DVD to hold two interesting Martial Arts films from the 70s. The double-feature disc will contain Moonlight Sword and Jade Lion and The Bloody Fists
In "Moonlight Sword and Jade Lion" the trailblazing "Lady Kung Fu" Mao Yin (aka Angela Mao, from "Enter the Dragon") stars in this sword-clanging, fist-flying tale of a heroic quest set in a China of generations ago. Highlights include Mao Yin's astonishingly acrobatic dispatching of a threatening gang and a table-flinging, gravity-defying melee in a rural dumpling house.
"The Bloody Fists" is legendary in its own right. If there's a name synonymous with dazzling martial arts sequences, it's Yuen Wo Ping, whose astonishing fight choreographies fill countless Hong Kong and Hollywood movies like this thrilling classic rumble. The story: a fugitive loner defends villagers against marauding intruders. The action: wall-to-wall, man-to-man, start-to-finish excitement as only Yuen Wo Ping can deliver!
The DVD will be a DVD-5, containing 192 minutes of action, so keep your expectations in check. There will be no extras and the films will only contain the dubbed English audio tracks.
This double-feature DVD will hit retail stores first thing in the new year – January 2 to be exact. For only $12.97 it can be yours, too.