Warner Home Video invites you to Beerfest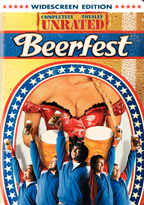 Warner Home Video has sent over some information about the upcoming release of their comedy Beerfest, slated for release in December. The film will be available in the original theatrical R-rated and an unrated version, each sold separately.
After a humiliating false start in Germany's super-secret underground beer competition, America's unlikely team vows to risk life, limb and liver to dominate the ultimate chug-a-lug championship. The laughs are on the haus!
Both versions will be available in fullscreen and widescreen with 5.1 channel Dolby Digital audio tracks. As extras you will find two Commentary Tracks. the first one features Jay Chandrasekhar and Steve Lemme as they discuss the finer points of drinking games and answer their critics. The second track will host Kevin Heffernan, Paul Soter and Erik Stolhanske as they share their behind-the-scenes buzz.
Also included is a selection of Deleted Scenes with two optional commentaries, by Jay Chandrasekhar and Steve Lemme, and by Kevin Heffernan, Paul Soter and Erik Stolhanske respectively.
Also look for a Featurette called "Rule #1." Everyone who has consumed has committed a party foul. Filmmakers reveal the most egregious mishaps from the set and beyond.
The DVD is rounded out by Interviews the movie's Theatrical Trailer and a Beer 101 History Lesson, the animated history of beer taught by director Jay Chandrasekhar and the lizards.
"Beerfest" will come to stores on December 5 with a $28.98 sticker price.