Warner Home Video brings Ocean Odyssey to DVD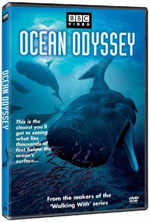 Warner Home Video is preparing the BBC Video production Ocean Odyssey for release on DVD this December, taking you into the world of whales in a fascinating in-your-face documentary. Blending state-of-the-art digital graphics with real footage, Ocean Odyssey is a breathtaking underwater adventure that fully immerses you in the beauty and dangers of the deep.
Do you know what lies at the bottom of the ocean? From the makers of the "Walking With…" series comes an enthralling exploration of Earth's final frontier seen through the eyes of its greatest inhabitant and the world's largest predator, the sperm whale. Following a young male from infancy to old age, the marinescape comes vividly to life: the impossibly deep canyons, the underwater volcanoes, and the spectacular mountain ranges. The inhabitants of opaque depths are no less impressive – black dragonfish that cast an eerie red glow, jellyfish shaped like giant footballs – but the whale is only interested in one creature, the colossal squid. When the two meet, it is the ocean's ultimate battle.
"Ocean Odyssey" will be available in stores on December 12 for only $19.98.