Warner floats the Lady In The Water in December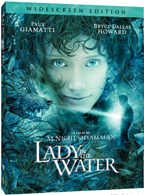 Warner Home Video has just unveiled details about the upcoming release of the M. Night Shyamalan movie Lady In The Water.
Apartment building superintendent Cleveland Heep (Paul Giamatti) rescues what he thinks is a young woman from the pool he maintains. When he discovers that she is actually a character from a bedtime story who is trying to make the journey back to her home, he works with his tenants to protect his new friend from the creatures that are determined to keep her in our world.
The DVD version will feature the movie in its original theatrical 1.85:1 widescreen aspect ration in an anamorphic transfer. It will be accompanied by Dolby Digital EX language tracks in English, French and Spanish. Warner will also release the HD-DVD and Blu-Ray versions of the film on the same day, featuring Dolby Digital EX Plus audio tracks. The HD-DVD version will even come with an additional, losslessly encoded Dolby track.
No bonus materials have been announced yet, but we will certainly keep you posted on these details as they emerge.
"Lady In The Water" will be released on December 19 and carry a suggested retail price of $28.98 for the DVD version and $39.99 for the high definition versions.