Universal bows more high definition content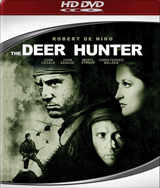 Universal Home Entertainment just announced details about some more HD-DVD releases that are slated for release in December. The titles in question are The Deer hunter and The Breakfast Club.
Winner of 5 Academy Awards®, including Best Picture, and one of AFI's Top 100 Films Of All Time, "The Deer Hunter" follows a group of Pennsylvania steelworkers from their blue-collar lives, hunting in the woods of the Alleghenies, to the hells of Southeast Asia during the Vietnam War. Academy Award® winner Robert De Niro and Christopher Walken star in this unforgettable saga of friendship and courage. Experience the brutality of war and the depths of emotional strain on the human spirit in this all-new special edition.
The release feature a 1080p widescreen transfer and a Dolby Digital Plus audio track. The release will contain the bonus materials form the DVD release, including the Commentary Track with cinematographer Vilmos Zsigmond and film journalist Bob Fisher, as well as Deleted & Extended Scenes and the movie's Theatrical Trailer.
"The Breakfast Club" tells the story of five students with nothing in common, faced with spending a Saturday detention together in their high school library. At 7 a.m., they had nothing to say, but by 4 p.m. they had bared their souls to each other and become good friends. John Hughes creator of the critically acclaimed "Sixteen Candles," wrote, directed and produced this hilarious and often touching comedy starring Emilio Estevez, Anthony Michael Hall, Judd Nelson, Molly Ringwald and Ally Sheedy. To the outside world they were simply the Jock, the Brain, the Criminal, the Princess and the Kook, but to each other, they would always be "The Breakfast Club."
Also featuring a 1080p widescreen transfer this disc will also contain a Dolby Digital Plus audio track. It is a HD-DVD/DVD combo release that also contains the standard DVD version on the same disc – though still without notable extras.
Both titles will be available on December 26. "The Deer Hunter" will carry a $28.99 price tag, while "The Breakfast Club" will come in at a slightly increased suggested retail price of $34.98, being a HD-DVD/DVD combo and all.