The Robert Mitchum Collection is set for January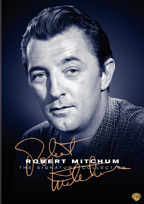 Warner Home Video is continuing their line of box sets dedicated to individual stars by releasing The Robert Mitchum Collection in January.
The 6-disc DVD set will contain the movies Angel Face, The Good Guys & The Bad Guys, Home From The Hill, Macao, The Sundowners and The Yakuza. This is the first time each of these titles is finding their way onto DVD here in the US and with remastered transfers they should be a sight to see, especially since they are all presented in their original aspect ratios, giving us magnificent widescreen versions of "The Good Guys & The Bad Guys," "Home From The Hill," "The Sundowners" and "The Yakuza."
"The Robert Mitchum Collection" will be available in stores on January 23 and carry a $59.92 sticker price.