Teen Titans take on Trouble In Tokyo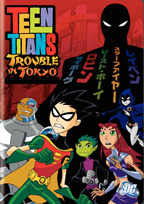 Warner Home Video has just unveiled details about the DVD release of Teen Titans: Trouble In Tokyo, scheduled for release in February.
When a high-tech ninja from the Far East attacks Titans Tower, Robin, Starfire, Cyborg, Raven, and Beast Boy spring into action and bring him down. But when Robin finds out the ninja was sent by a mysterious and menacing Japanese criminal known as Brushogun … our heroes realize that the action isn't over — it's just getting started. So the Titans pack their bags, hop in the T-Ship, and take off for Tokyo on mission to track down Brushogun — and bring him to justice. But can our teenage heroes stay out of trouble in the City That Never Blinks? And can Robin solve the mystery of Brushogun before our villain takes down the Titans — and destroys everything Robin is?
The DVD will feature this first-ever Teen Titans animated movie in its original fullframe aspect ratio, complemented by an English 5.1 Dolby Digital audio track as well as Dolby Surround tracks in French and Spanish. No extras have been scheduled to be included in this release.
"Teen Titans: Trouble In Tokyo" will be in stores on February 6 and can be yours for only $19.98.