Synapse will release Maniac Cop and Christmas Evil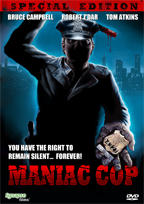 Synapse Films has announced plans to bring Bill Lustig's Maniac Cop and Lewis Jackson's Christmas Evil back to DVD this November.
Innocent people are brutally killed on the streets of New York by a uniformed police officer in "Maniac Cop." A young cop, Jack Forrest (Bruce Campbell), finds himself marked as the chief suspect after his wife is murdered. As Lieutenant Frank McCrae (Tom Atkins) investigates these mysterious killings, the death toll rises and he suspects a mysterious police cover-up. This "maniac" cop must be stopped, but it might not be so easy! He isn't an ordinary man. He's inhuman… driven by supernatural forces… and ready to take on the entire police force, hell-bent on revenge!
The re-release of the cult classic will contain a new transfer from a high definition master in the movie's original 1.85:1 aspect ratio. It will be complemented by a 6.1 channel DTS track as well as a new 5.1 channel Dolby Digital track and the original Dolby Stereo track. An Audio Commentary featuring Bruce Campbell, producer Larry Cohen and others will also be included as well as an all-new Featurette with star Robert Z'Dar and other surprises! Also look for Additional Scenes Filmed for Japanese Television Broadcast on this release and the movie's Trailers and TV Spots.
In "Christmas Evil" Harry Stadling (Brandon Maggert) is obsessed with Christmas! In fact he wants to "be" the authentic Santa Claus, with a real suit, sleigh and reindeer. Ever since he learned the "truth" about Santa, he's tried to make Christmas a reality. Growing up a toy maker, Harry is met with naysayers and critics who mock him for his yuletide beliefs… but he wants people to get the presents they deserve, even if that means giving the gift of murder!
The DVD will contain a Director's Cut with never-before-seen footage, in a new 1.78:1 widescreen transfer and feature a Commentary Track by director Lewis Jackson. A Second Commentary Track will boast Jackson together with cult director John Waters. Also included are Rare Audition Tapes, Test Screening Comment Cards and Storyboards.
Both movies will come to store shelves on November 14 and can be yours to own for $24.95 each.