Snakes on a Plane makes its home video debut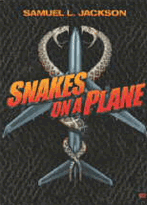 Nothing, and I mean nothing can compare to catching an opening night showing of Snakes on a Plane with a theatre filled with people yelling "Snake Vision" and leaping to their feet whenever a snake eats a human. But that doesn't mean the upcoming New Line DVD release isn't worth picking up.
In order to stop key witness Sean Jones from testifying in a mob case, a bomb is placed aboard his plane – not to blow up the flight, but to release a hundred snakes pumped up on pheremones to eat everyone on board. But Neville Flynn is going to get that plane to California, even if he has to take out every snake by himself.
The DVD will come in fullscreen and anamorphic widescreen flavors and will be filled with extras including an audio commentary with director David Ellis and Samuel L. Jackson, deleted scenes, easter eggs, the featuretttes Snakes on a Video (which includes the Cobra Starship Video), Pure Venom: The Making of Snakes on a Plane, Snakes on a Blog, Meet the Reptiles and VFX, a gag reel, tv spots and a theatrical trailer. What sadly will not be included is the documentary short on Texas resident Shannon McCormick who watched the film for 24 hours straight on opening day. Here's to ya' Shannon.
Arriving on January 2nd, (two days before this news editors birthday – hint hint), Snakes on a Plane will land for $28.98. Buy it or Sam Jackson will be mad at you.