Smallville goes high definition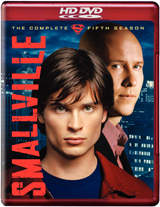 Warner Home Video just announced plans to begin putting out TV series in high definition as well – making them the second studio after HBO. The first in line will be Smallville: The Complete Fifth Season ready to hit HD-DVD in November.
An astonishing season of destiny! Clark Kent now carries a full load of classes at Central Kansas U., but that's not all he carries. He carries the full weight of his – perhaps the world's – destiny. "We call this season Superman in Training, " series co-creator Alfred Gough says. "Clark is going to accept his destiny." During this exciting pivotal season: The Fortress of Solitude rises. A spaceship mystery unfolds. A dark tragedy – one even Clark's powers can't prevent – strikes. These and more key elements of Superman lore fall into place.
The release will feature all episodes from the show's fifth season in 1.78:1 widescreen, complemented by a 5.1 Dolby Digital Plus audio track. The DVD set will contain 5 HD-30 discs, to hold the entire 926 minutes of the episodes' running length. The release will also contain Warner's In-Movie Experience in which the Special Effects artists reveal the process of creating the visual effects for the season opener while you watch the episode.
Other extras on the release include a Making-Of Featurette for the 100th episode, as well as Commentary Tracks on two episodes. Further included are Unaired Scenes and the Webisodes, "Vengeance Chronicles".
For the first time, Warner will deliver some of the extras on this release in 1080i high definition encoding, adding further to the appeal of the release.
"Smallville: The Complete Fifth Season" will come to HD-DVD on November 28 for $79.98.