Maybe Stacked finds more fans on DVD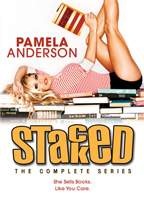 It was a predictable failure on TV and now 20th Century Fox Home Entertainment is bringing the Pamela Anderson comedy Stacked to DVD in a DVD set containing the entire short-lived series.
You can't judge a bookstore by its covergirl, especially when she happens to be Pamela Anderson! Anderson stars as drop-dead sexy Skyler Dayton, a reformed party girl in need of a lifestyle makeover, who takes a job at a family-run bookstore called "Stacked Books." Determined to prove she has ample talent beyond her ample talents, Skyler dazzles the employees and customers with her sweet-natured charm and refreshing honesty.
The 3-disc DVD set will also include 5 unaired episodes and offers up a few extras, such as the Featurette "Nipplegate: Getting Dressed with Pam" – oh my, did we laugh – the Featurette "Pam Cam" and Show Us Your Bloopers – aarrgh!
Anyway, for those who actually enjoyed the show or find Pam Anderson somehow entertaining, the DVD set will be in stores on December 12 for $29.98.