Law & Order: Criminal Intent sees another season box set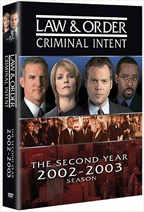 Season 2 of the TV series Law & Order: Criminal Intent is coming to DVD this winter, containing all 23 episodes of the season starring Vincent D'Onofrio, Kathryn Erbe, Jamey Sheridan and Courtney B. Vance.
In an ingenious twist on the enormously successful "Law & Order" recipe, the legal drama presents a heinous crime from the point of view of the perpetrator, a witness – or even the victim. Allowing the audience behind-the-scenes knowledge denied the detectives, the show then sets Detectives Goren and Eames on the case.
Apart from all 23 episodes of the second season, the DVD set will also contain 30 minutes of Deleted Scenes. It will be in stores on December 12 and can be yours for $59.98.