Image Entertainment unleashes Hate Crime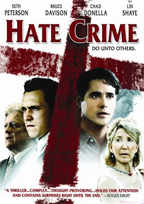 After enormous success throughout 2005 on the independent film festival circuit
Tommy Stovall's Hate Crime is now coming to DVD from Image Entertainment.
In Hate Crime, Robbie and Trey live peacefully in a quiet neighborhood until an unexpected conflict arises in the form of hostile new neighbor Chris, a preacher's kid. Blindsided by a brutal attack, Trey winds up in a hospital bed, fighting for his life. Chris becomes the prime suspect, but he has a solid alibi. After he himself becomes a suspect, Robbie desperately attempts to carry out a complex and dangerous plan that will uncover shocking secrets and turn many lives upside down.
The DVD will offer up an anamorphic widescreen transfer of the film with a Dolby Stereo audio track. As extras the release will also contain a Making Of Featurette as well as Testimonials by hate crime victims. The "Jesus By 45" Music Video is also included as well as a Commentary Track by director Tommy Stoval and the film's Theatrical Trailer.
"Hate Crime" will be in stores on November 14 with a $26.99 suggested retail price.