Genius Products brings classic John Wayne Westerns in color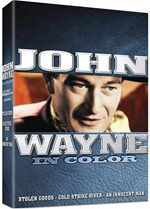 Genius Products just unveiled plans to release a 3-disc DVD set called John Wayne In Color in December. The set will contain the films Stolen Goods, Gold Strike River and An Innocent Man.
These three Westerns starring John Wayne are coming to DVD in color for the first time, featuring legendary shoot-outs, fierce fist-fights and fast horses.
Each of the DVDs in the set will contain both a colorized version of the respective film as well as the original, black and white version. Both version have been entirely restored and remastered for the best possible viewing experience.
As extras the release will also contain the Featurette "Western Legends" hosted by Vincent Price. Also included is the Featurette "The Western" with John Wayne and John Ford, as well as the Featurette "Bust'em Up!" with John Wayne and Jimmy Durante. As additional extras you will find the Bonus Short "The Northwood Killers" on the release as well as John Wayne Classic Commercials as well as John Wayne Film and TV Rarities and Trailers
"John Wayne In Color" will be available on December 12 for $29.95.