Bugsy is back on track for December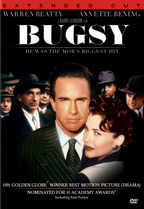 It has been announced and delayed so many times, you begon to wonder if it is worth taking this announcement seriously, but Sony Pictures Home Entertainment has now scheduled the release of Bugsy: Extended Cut for December.
Warren Beatty and Annette Bening star in the incredible true story of Benjamin Bugsy Siegel, the playboy gangster who betrayed the Mob for love. A cold-blooded killer who dreamed of Hollywood stardom, a crazed patriot who plotted against Mussolini, and the brilliant visionary who carved Las Vegas out of the dry Nevada desert, Bugsy had it all. Until he fell for the one woman who wanted more.
A critical masterpiece, "Bugsy" is a remarkable collaboration of Hollywood's best: director Barry Levinson, screenwriter James Toback, and an all-star supporting cast that includes Harvey Keitel, Oscar®-winner Ben Kingsley, Joe Mantegna, and Elliott Gould. But at the center of it all is the white-hot romance between Bugsy and the insatiable starlet, Virginia Hill.
The release will come as a 2-disc Special Edition, that also includes a good number of extras, such as 13 minutes of additional footage as well as a Bugsy Siegel "Screen Test" Video Montage. Also included is "The Road To Damascus: The Reinvention Of Bugsy Siegel," an all-new Documentary featuring interviews with Barry Levinson, Jim Toback, Warren Beatty, Annette Bening, Ben Kingsley and Elliott Gould. The release is rounded out by Deleted Scenes and Filmographies.
This "Bugsy: Extended Edition" will be unrated and running 155 minutes when it – hopefully – hits stores on December 12 with a $24.96 sticker price.