A Tale of Spacemen & Go-Go Girls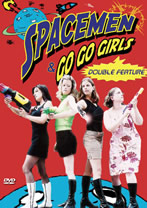 In tribute to the second-rate films of the 1950s, Tempe Entertainment is releasing the double feature of Spacemen, Go-Go Girls & The True Meaning of Christmas and Spacemen, Go-Go Girls & The Great Easter Egg Hunt this fall.
In the Christmas Special, Aliens from Uranus have come to Earth to steal some of its precious resources! It's up to a group of go-go dancing private eyes to stop them! The Easter Egg Hunt has an evil alien Space Bunny who has come to Earth and replaced the Easter Bunny. The aliens and the go-go girls are forced to team up to bring this evil monster to justice!
Audio commentaries and behind the scenes 8mm footage are both included in the disc.
For $19.99, the Go-Go Girls live again on December 19th.